My research interest is physical activity and cancer survivorship. It's personal for me. I was diagnosed with head and neck cancer more than 20 years ago and my prognosis wasn't encouraging. I believe my recovery was improved because I was physically active before, during, and after treatment.
What is the Field of Cancer Rehabilitation? 
Since 2000, oncology researchers have accumulated a mountain of indisputable evidence confirming the benefits of physical activity to cancer survivors:
Increased effectiveness of treatment

Reduced negative side-effects of treatment

Lowered risk of recurrence
There are 15 million cancer survivors in the US, and each year another 1.7 million Americans are diagnosed with cancer1, which means it is very likely that this research directly affects you, or someone you know. We have done a great job of publicizing these benefits, but even so, about 60% of survivors are not active enough to experience these benefits.2  You, or someone you know, has likely accepted a life compromised by a functional impairment that developed as an untreated side effect of treatment. Functional limitations often contribute to depression, anxiety, and poor quality of life. This shouldn't be.
Skilled MDs referred to as physiatrists, and therapists, working in the field of cancer rehabilitation medicine know how to help, but referral rates to cancer rehabilitation are as low as 2% – 9%.3  A constellation of barriers to referrals exists at the level of survivor, provider, system, payer, and policy. 
Identifying and addressing the causes of this lack of rehabilitation services for survivors means asking and answering questions at the intersection of policy, standard of care oncology practice, and our fractured system of cancer rehabilitation care delivery that requires multiple visits to a range of specialists spanning different treatment disciplines.3, 4 
Even straight-forward solutions are problematic. Tailored aerobic exercise is one of the most effective interventions to improve survivor status. Starting in 2013, in recognition of the importance of physical activity and in an effort to standardize cancer rehabilitation care, exercise guidelines were issued by the American Medical Association, the National Comprehensive Cancer Network, the American College of Sports Medicine, the American Congress of Rehabilitation Medicine, National Coalition for Cancer Survivorship, and the American Cancer Society.
The Crux of the Problem: The Conversation Isn't Happening
But here's the rub: all these exercise guidelines recommend that oncology clinicians start the exercise conversation, evaluate a survivor's needs, and make the referral. Not surprisingly, oncologists give some very good reasons why they are reluctant to offer exercise advice*:4,5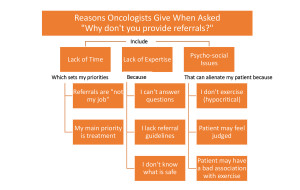 There are equally good reasons why cancer survivors tend to avoid the subject.*6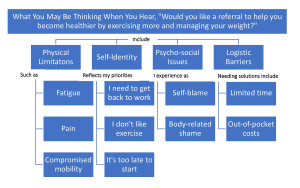 Meanwhile, left on the side-lines are the physiatrists and therapists of rehabilitation  medicine who have the training but don't have survivors. From their side, there are three reasons why survivors aren't exercising.1,3 
The opportunity for a serious conversation between a physiatrist and a survivor about treatment impairments and the benefits of exercise rarely happens during oncology treatment.

Neither oncology clinicians nor survivors know that most rehabilitation services for cancer survivors include exercise programming and instruction and are covered by insurance.

As a consequence of the first two reasons, survivors often don't ask for referrals to rehabilitation and frequently their oncologists don't offer them.
So here we are, saddled with a system in which few survivors receive the help they need.
The Policy Environment: Opportunities for Change
The policy environment surrounding cancer survivors, cancer rehabilitation services, and the availability of community-based physical activity programs lacks coordination, direction, and enforcement mechanisms. In general it can be organized into three different arenas: medical organizations, legislative protections, and health equity advocacy.7
Leading the effort among medical organizations is the Institute of Medicine, whose series of reports on cancer survivors and their needs called for public commitments to support change. Its foundational 500-page report published in 2006, "From Cancer Patient to Cancer Survivor: Lost in Transition," is often credited with prompting regulatory action by the American College of Surgeons (ACS). The ACS is the accrediting body for cancer healthcare providers, and in 2016 it mandated a timeline that  linked accreditation to providing required services for cancer survivors including psychosocial support and survivorship care planning and rehabilitation services, now referred to as "survivorship care plans."7  However, medical organization pressure only goes so far. Tellingly, the title of an October 2018 article published in the Journal of Cancer Education announced, "Most National Cancer Institute-designated cancer center websites do not provide survivors with information about cancer rehabilitation services."8
The legislative acts that have been used to support cancer survivors are the Americans with Disabilities Act (ADA) of 1990 and the Patient Protection and Affordable Care Act (ACA) of 2010. ADA addresses issues of employment, protecting cancer survivors whose treatment schedules or whose after-treatment limitations may require accommodation. The ACA addressed many insurance issues, but the act has been vulnerable to challenges since its implementation.7
Advocacy efforts addressing health equity have focused attention on populations who are less likely to have cancer rehabilitation services available: people living in rural communities, and minorities including American Indians, African-Americans, and Pacific Islanders.7
 References:
*The images of oncologists' and survivors' attitudes were created by Nancy Litterman Howe.
1 Alfano, C., & Pergolotti, M. (2018). Next-generation cancer rehabilitation: A giant step forward for patient care. Rehabilitation Nursing, 43(4), 186-194.
2 Tsai, E., Robertson, M., Lyons, E., Swartz, M., & Basen-Engquist, K. (2018). Physical activity and exercise self-regulation in cancer survivors: A qualitative study. Psycho-Oncology, 27, 563-568.
3 Cheville, A., Mustian, K., Winters-Stone, K., Zucker, D., Gamble, G., & Alfano, C. (2017). Cancer rehabilitation: An overview of current need, delivery models, and levels of care. Physical Medicine and Rehabilitation Clinics of North America, 28, 1-17.
4 Pergolotti, M., Alfano, C., Cernich, A., Yabroff, B., Manning, P., Moor, J., . . . Mohile, S. (2020). A health services agenda to fully integrate cancer rehabilitation into oncology care. Manuscript submitted for publication.
5Smith-Turchyn, J., Richardson, J., Tozer, R., McNeely, M., & Thabane, L. (2016). Physical activity and breast cancer: A qualitative study on the barriers to and facilitators of exercise promotion from the perspective of health care professionals. Physiotherapy Canada, 68(4), 383-390.
6Blaney, J., Lowe-Strong, A., Rankin-Watt, J., Campbell, A., & Gracey, J. (2013). Cancer survivors' exercise barriers, facilitators and preferences in the context of fatigue, quality of life, and physical activity participation: A questionnaire-survey. Psycho-Oncology, 22, 186-194.
7Silver, J., Stout, N., Fu, J., Pratt-Chapman, M., Haylock, P., & Sharma, R. (2018). The state of cancer rehabilitation in the United States. Journal of Cancer Rehabilitation, 1, 1-8.
8Silver, J., Raj, V., Fu, J., Wisotzky, E., Smith, S., Knowlton, S., & Silver, A. (2018, October). Most National Cancer Institute-designated cancer center websites do not provide survivors with information about cancer rehabilitation services. Journal of Cancer Education, 33(5), 947-953.